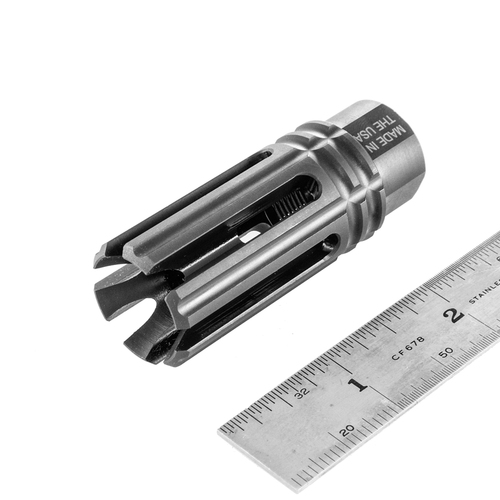 The ClawFace™ muzzle brake combines the performance of a full size brake and a reduced level of concussion all in a tactical package.  The offset slot style baffles mitigates concussion level more than most standard baffles while reducing recoil and muzzle rise.  The deep crown is both aggressive and stong.  These are designed to work with any rifle with proper and certified installation.
Choose from these threads & bores:
5/8″-24 threads (.308 bore & smaller)

1/2″-28 threads (.224 bore & smaller)
Key Features:
Dimensions: 1″ diameter x 2.5″ long (USPSA, IDPA & SOF legal dimensions)

Weight: 4oz

Offset, 360 degree slot baffle

Deep, gas-expansion crown

BLACK HARDENED STEEL & QPQ PROCESS, BLACK NITRIDE FINISH (DIAMOND LIKE COATING)

crush or peel washers not included

Designed in and Made in USA with USA alloy steel!
30 day, 100% satisfaction money back guarantee!
FREE USA SHIPPING REGARDLESS OF QUANTITY!!!